Studios
Villa Pazelt in Bad Vöslau
Studios
Villa Pazelt in Bad Vöslau
Historic flair, comfortable stay at Villa Pazelt
Villa Pazelt was built in 1895 by the Austrian architect Ludwig Baumann. Situated in the centre of Bad Vöslau, the historic building features Swiss and neo-baroque style elements.
The villa was purchased by the current owners, Erwin Paierl and Elena Vasilyeva, in 2018. In addition to two studios that are available to guests, the villa also houses the Bad Vöslau Doll Museum.
The villa has a beautiful garden, which guests are welcome to use. It is within walking distance of many local attractions and comes with a parking space for each studio.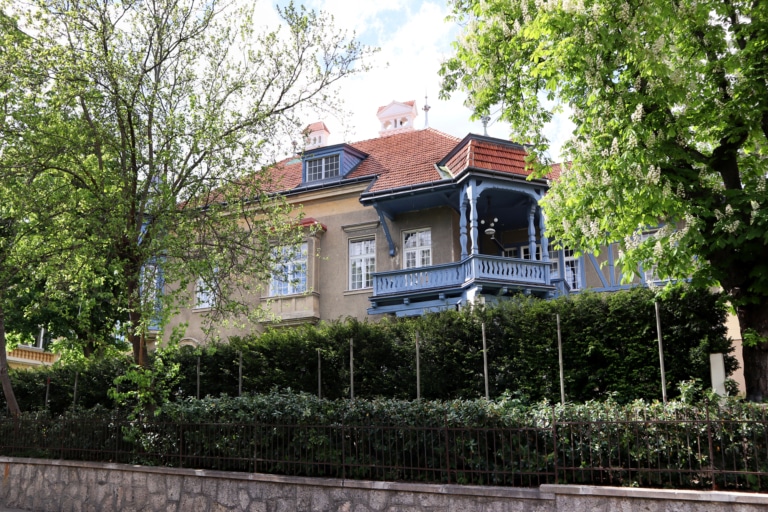 Rent Studios
Insights into the Villa Pazelt
30 m² | max. 2 guests
Studio 1
Studio 1 accommodates one or two guests and has a separate entrance. The antique furniture gives the apartment a special cosy, flair. The bedroom-living room offers plenty of space to relax and unwind. In the modern kitchen, you'll find everything you need for your stay: a coffee machine, modern electric cooker, dishwasher, cooking utensils and tableware.
The studio also has a bathroom with shower and a separate toilet. The cosy terrace serves practically as an additional room in summer: here you can spend the afternoons reading a good book or enjoy the fresh air on a beautiful summer's evening.
57 m² | max. 4 guests
Studio 2
Studio 2 offers adequate space for a relaxing stay for up to four guests. The kitchen is fully equipped with everything you need: coffee machine, electric cooker, dishwasher, cooking utensils and tableware. The bedroom with double bed and the comfortable sofa bed in the living room ensure a good night's sleep in peaceful Bad Vöslau. The bathroom has a shower and the garden is available for guests to use. A wonderful place to relax and enjoy an aperitif, especially in spring and summer.
Impressions
Photo Gallery